Motorola has released three new feature phones in Brazil - the TIM's exclusive QWERTY bars MOTOKEY XT EX118 and MOTOKEY Mini EX108 plus the dual-SIM WX294.
The two QWERTY bars MOTOKEY XT EX118 and MOTOKEY Mini EX108 are available only through the carrier TIM both on one-year contracts or with pay-as-you-go plans.
The MOTOKEY XT EX118 is the mightiest of the three, featuring a 2.4-inch capacitive QVGA touchscreen, a 3 megapixel camera, FM radio, a five-row portrait QWERTY keyboard and a microSD card slot. If you decide to get it on a pay-as-you-go plan, it will set you back R$336 (150).

Motorola MOTOKEY XT EX118
Motorola MOTOKEY EX108 is a cheaper version of the EX118 model with a mere 2-inch non-touch display of 220 x 176 pixels resolution, a 2 megapixel camera, FM radio and a microSD slot with 2GB pre-installed card. It costs R$252 (113) on a pay-as-you-go plan.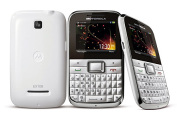 Motorola MOTOKEY EX108
The last Motorola phone is not a carrier exclusive and is available everywhere in Brazil. The WX294 is a dual-SIM, dual stand-by candybar with an 1.8-inch display with 128 x 160 pixels resolution, a VGA camera with LED flash, FM radio and microSD slot with 2GB bundled card. The WX294 doesn't come cheap though - if you want it, you'll have to pay R$249 (111).

Motorola WX294
As we mentioned above, all handsets are already available in Brasil and most probably won't be released elsewhere.
Source: http://www.gsmarena.com/brazil_gets_motorola_motokey_xt_ex118_motokey_mini_ex108_and_wx294-news-2923.php